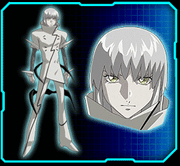 The silver tribe were the first to answer the golden tribes call,because of this they took over the role as the most powerful tribe in the universe once the golden tribe left the universe for another. The Silver Tribe are few in number, thus they use the Bronze Tribe to do most of their fighting.
The silver tribe are at war with the iron tribe as they believe that the golden tribe put the iron tribe above all other tribe. The iron tribe has a nodos, Age, who battles against the silver tribes four nodos' and they will lose as the golden tribe predicted.
Community content is available under
CC-BY-SA
unless otherwise noted.