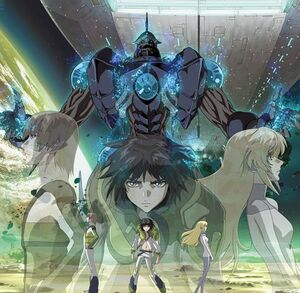 New pages
Heroic Age Wiki is an encyclopedia about everything related to Heroic Age Anime series. The wiki format allows anyone to create or edit any article, so we can all work together to create a database for fans of this series.
Basic articles are being imported from wikipedia with small changes. Pages will be changed once the layout is set.
Our new skin is now active.
Heroic Age Wiki is now active.
Heroic Age
Edit
Set in a distant future, Heroic Age tells the story of the quest of the human race to find the messianic individual that holds the power to save mankind. This savior, named Age, is the only human to have been raised by the Golden Tribe before they departed from the universe. The young princess of the humans, Dhianeila, and the crew of the Argonaut - an advanced spaceship able to travel between stars via lanes called Starways - find Age on the ruined planet Oron. After fending off an attack from a rival tribe, the Bronze Tribe, the human race sets off on a journey of salvation, led by Dhianeila and Age.
There was once a primeval race which called itself the "Golden Tribe". They possessed many powers, including the ability to create Planets and see into the future. They then called on primitive beings far across the galaxy and told them to explore the universe. Three races were able to reply to their call and the Golden Tribe referred to those as the "Silver Tribe" (銀の種族, Gin no Shuzoku) , the "Bronze Tribe" (青銅の種族, Seidou no Shuzoku) , and the "Heroic Tribe" (英雄の種族, Eiyuu no Shuzoku) . Long after, just as the Golden Race was about to move on to another universe, a new race replied to their call. The newcomer, Humankind, was referred to as the "Iron Tribe" (鉄の種族, Tetsu no Shuzoku) .
Visit here to read more...
Community content is available under
CC-BY-SA
unless otherwise noted.